Welcome...
Thank you so much for visiting me on the web! I hope to provide you with information and opinions on the hottest restaurants, attractions and events in and around Baltimore. In addition, I will offer ideas for daytrips and fun getaways.

Please add my site to your favorites and come back to visit regularly as I will continue to add new updates!
Sign up for Downtown Diane's Newsletter!
Sign Up for Downtown Diane's official E-mail newsletter. You will have the chance to win exciting prizes, learn the latest scoop on restaurants, openings, events, charitable causes and hot happenings all around Baltimore & surrounding areas.

Listen to Diane every Friday on The Ed Norris Show 105.7 The Fan
SAVE 10% OFF YOUR ORDER WITH CODE: DIANE10
Maryland Crabcakes, Crab Soup, Crab Dip Delivered to Most States Overnight!
(Not Alaska or Hawaii)


LIKE on FB for Specials & Updates:
https://www.facebook.com/CrabCountry
Now, for the first time, you can have some of the most delicious and popular
Red Roost dishes ready to prepare in your kitchen from Crab Country Gourmet!
Full Delicious Details: www.crabcountrygourmet.com

Celebrity Photos
Diane has met and interviewed many celebrities through her Entertainment Reporting in and around Baltimore.

Click here for pictures of Diane and her favorite celebrities!
**********************************************************************************************
CBS Baltimore..Half-Price Deals!

Sign-Up BALTIMORE to receive FAB half-price or more deals..including restaurants, spas+..NEW offers everyday!
Click Here for Half-Price or More Baltimore Deals
**********************************************************************************************
Chef's Expressions Wine Dinners

Gramercy Mansion

Enjoy a fabulous, elegant dinner paired with amazing wines. Great for a special date night...Treat someone you love to a memorable evening.


Visit www.ChefsExpressions.com for full schedule of wine dinners and complete menus


January 9-24
www.baltimorecountyrestaurantweek.com
Royal Farms Arena

Wednesday, February 4 - Sunday, February 8

Thrill to high-speed stunts with Lightning McQueen, Mater and the crew of

Disney/Pixar's Cars..

Dive into

The Little Mermaid's

enchanting undersea kingdom.. Enter the mystical world of Pixie Hollow with Tinker Bell and the Disney Fairies ..Enjoy Buzz Lightyear, Woody, Jessie, and the

Toy Story

gang. Full details:

royalfarmsarena.com/events/disney-on-ice
Buttercream Ball Benefits..Icing Smiles

Saturday, February 28 7-11PM The Great Room Savage Mill

Icing Smiles is a nonprofit organization that provides custom celebration cakes and other treats to families impacted by the critical illness of a child.
One Night of Queen..

Modell Performing Arts Center at The Lyric

Friday, March 6 8PM

Since May 2002, 'Gary Mullen and the Works' have performed throughout the UK, USA, Europe, South Africa and New Zealand to sell-out audiences. This show will rock you!

One Night of Queen
Friday, March 13- Opening Night BBQ Dinner

Saturday March 14

Timonium Fairgrounds -All Indoors!

Admission includes souvenir glass and all you can sample Beer and Bourbon with plenty of BBQ vendors Over 60 Beers, 40 Bourbons, Seminars, Live Music+ Full Details & Tickets:

www.beerandbourbon.com/maryland/show-info
Brian Stokes Mitchell

Modell Performing Arts Center at The Lyric

Saturday, March 14

A powerful baritone, he has been one of the central leading men of the Broadway theatre since the early 1990s. He won a Tony Award for Best Actor in a Musical in 2000 for his performance in Kiss Me, Kate.

Brian Stokes Mitchell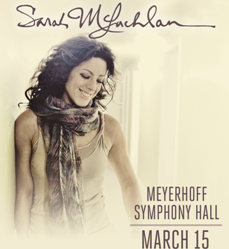 Monday, March 16
Silent Auction & Autograph Session - 4:30 PM
Awards Gala - 6:15 PM

The Hilton Baltimore

Join 32 NFL recipients who were chosen by their peers for displaying courage both on and off the playing field will be honored.

With the mission to raise awareness and prevention for abused, neglected and at risk children, the evening will include an autograph session and auctions. More info/tickets

www.edblock.org
Casey Cares Foundation
15th Anniversary Gala

March 21st

American Visionary Art Museum.

The evening will feature dinner, dancing to live music, auctions, raffles and more!

Visit

Oh the Places We'll Go!

for sponsorship and ticket information.
Cinderella

Modell Performing Arts Center at The Lyric

Saturday, March 28 7PM

The Ballet Theatre of Maryland returns to the Modell Lyric to present another epic collaboration:

Cinderella.
The Ugly Duckling
and The Tortoise and the Hare

Modell Performing Arts Center at The Lyric

Sunday, March 29 10:30AM
Celtic Woman 10th Anniversary Celebration

Modell Performing Arts Center at The Lyric

Tuesday, March 31 8PM

The enchanting musical experience features Celtic Woman performing a treasure chest of traditional Irish standards, classical favorites and contemporary pop songs, with an unforgettable signature style.

Celtic Woman
National Harbor

May 2-May 3

Over 150 Different INTERNATIONAL and LOCAL Wines, Beers, and Spirits in an ALL-YOU-CARE-TO-TASTE event. Great food to taste and to buy from some of DC's hottest restaurants and Food Trucks

Admission includes souvenir glass, seminars, music+ Full details & Tickets:

www.wineandfoodnh.com
May 30

The Brew and Bourbon Classic is a fun-filled afternoon of beer tasting, bourbon sipping and, of course, pulse-pounding Thoroughbred racing. Over 60 different beers and bourbons will be poured as the races unfold. Great food and music will round out the day.
Full details and tickets:

www.brewandbourbonclassic.com/home2
June 13

Baltimore Inner Harbor -Rash Field

All you can eat crabs and all you can drink

cold beer, music, vendors & more.

More Details & Tickets:

www.mdcrabfest.com
National Harbor

June 19-June 20

Admission includes souvenir glass and all you can sample Beer and Bourbon with plenty of BBQ vendors Over 60 Beers, 40 Bourbons, Seminars, Live Music+ Full Details & Tickets:

www.beerandbourbon.com/national-harbor/show-info
Das Best Oktoberfest

Baltimore Inner Harbor-Rash Field

October 10

ALL YOU CARE TO TASTE OVER 150 INTERNATIONAL, DOMESTIC AND LOCAL MARYLAND BEERS, DOMESTIC WINES and SCHNAPPS in Souvenir Glass,

Live Music, Contests, Vendors & So Much More.

Full Details & Tickets:

Oktoberfest
Maryland Balloon Flights
Want a different idea for a date? A romantic Anniversary or Birthday
surprise? Pilot Matt Lidinsky, who lives in Baldwin, MD. runs a successful Hot Air Balloon Ride Business. You can visit his web site
http://www.marylandballoonflights.com to find out how to book a flight during this beautiful time of the year.



Diane also recommends this fine restaurant to make any occasion special: