| | |
| --- | --- |
| | Rosemary Beach... A Family Escape to Paradise |

Have you decided where to go with the family this Summer? Deciding where to go and what to do that will please the entire family isn't always easy. Allow me to recommend Rosemary Beach, located on Florida's northwest gulf coast, Rosemary Beach is unforgettable. From the minute you enter your private beachside accommodations, it is first class all the way. Named for the Rosemary herb (mmmmm!) that grows wild the area, Rosemary Beach, is a planned community of homes, cottages, lofts, shops, recreation and restaurants. Designed and inspired by classic beach towns, the 107 acre gulf-front community was established in 1995 and designed to bring back the notion of community, neighborhood and convenience. There are over 190 accommodations available, from lofts to private carriage houses. A new Inn is to be complete in 2007 and will feature 56 more private rooms and a conference center.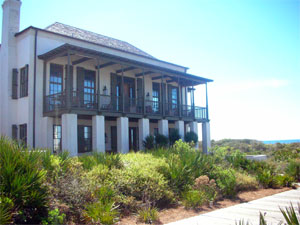 The many footpaths, boardwalks and pedestrian lanes ensure nothing is more than a five minute walk, including the town square, tennis courts, swimming pools and beach. On a recent visit, we stayed in a carriage house which is adjacent to a larger cottage. The carriage house is perfect for 2-4 people, while some of the larger cottages can accommodate up to 20 people. Each house is decorated to reflect the owners own personality and style and all that we toured were gorgeous, classy and unique. All the homes use a wood stain, no paint is allowed, and have a Caribbean/West Indies influence; many feature "New Orleans" courtyards. The home colors feature chocolate, grey, sage green, olive and terra cotta, perfect for the beachside setting. We had the opportunity to speak with Kenneth Gifford, Vice President and Managing Director of Rosemary Beach Cottage Rental Company. Gifford explained the community landscaping, architecture, design and overall concept of Rosemary Beach. A brilliant concept that truly works. The Town Hall, features a bell that rings the number of the hour and can be heard throughout the town, adding to the "small town" ambience.




Recreational activities are abundant and include tennis, state-of-the art fitness center and fitness classes, bike and scooter rentals for the many bike trails, complete beach service featuring sailboat and kayak rentals and gorgeous pools. The Coquina Pool has no edges and one depth and is in one word, magnificent. There are three other pools, including one that is indoor for year- round use.
We enjoyed taking a stroll around Main Street and the fine shops and restaurants. I loved the Rosemary Beach Trading company and purchased several precious items to bring home. This shop has apparel and souvenirs that will long remind you of your visit to Rosemary Beach. We were thirsty and it was 5 o'clock somewhere, so we headed to Courtyard Wine and Cheese. Featuring 50 wines by the glass, where do we begin? Bryan Krutz offered his assistance and we sampled several Pinots and enjoyed a delicious cheese and fruit plate. For dinner, we headed a few doors down to Onano Neighborhood Café. Northern Italian cuisine is featured and my Veal Scallopini was tender and perfectly prepared, my husband enjoyed the Citrus Braised Grouper, served with potato gnocchi, also a perfect choice. The restaurant is on the first floor of The Pensione Bed and Breakfast, another option for your stay in Rosemary.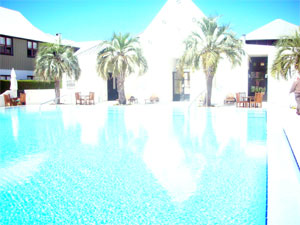 During our stay, we enjoyed biking around the property; bikes are available for rent at Bamboo Beach and Bicycle Company. Bike on over to the nearby restaurant Shades at the Loop, with large screen televisions, 28 draught beers and an impressive menu. Begin with the Gulf Coast Fish Bites then move on to the Blackened Mahi Mahi Sandwich or one of several Gourmet Pizzas, then get back on your bike and work off the calories.

During your stay, you may want to take a tour of Eden State Gardens and Mansion not far from Rosemary Beach or try your skills at Kayaking or Hobie Cat Sailing in the Gulf with rentals by Sea Oats Beach Service. Stop by Summer Kitchen for a quick bite to eat and head to the beautiful beach. With water so blue and sand so white, you will truly enjoy relaxing and searching for sand dollars and sea shells.

On our last evening, we headed a few miles down the road to Café 30-A, an award-winning restaurant. Begin with one of their many Martinis, then move on to a Poached Beet Salad, featuring honey pecans, gorgonzola and blood orange vinaigrette, I literally could not stop talking about this salad! There are many fresh fish choices for entrees, we had the Sesame Crusted Yellowfin Tuna and the Caribbean Jerked Cobia, both were excellent. There is lamb, steak and pork chops for those not in the seafood mode. Save room for dessert and the Warm Brown Sugar/Apple Bread Pudding, the best I have ever had. I have to mention the wine list which is phenomenal, the selection of chardonnay, cabernet, pinot, merlot, zinfandel and assorted varietals is one of the most extensive that I have seen. Café 30-A is definitely worthy of their many awards, including Wine Spectator Award of Excellence.
Environmentally friendly Rosemary Beach is the perfect destination for a dream family get-away.
The average temperature in Spring is 68 degrees and Summer is 85 degrees.
The area is accessible by two airports, one is Fort Walton Beach Airport, approximately 1 hour to Rosemary Beach, the other Panama City-Bay County, approximately 30 minutes to Rosemary Beach.

Visit www.RosemaryBeach.com for all the info you need to plan your vacation. In addition to rentals, many homes are available for purchase and you can view them on-line, as well. Call for a free brochure 1-888-855-1551.